Packaging Equipment for Household & Personal Care
Household and Personal Care Industry Spotlight
Household items cover a vast portion of consumer products, and these facilities meet high production demands throughout the year. Automation solutions from Ska Fabricating help manufacturers in this industry streamline their processes and continue to meet demand.
An increased focus on sustainability has led to innovative new products that present packaging challenges or introduce the need for a different container type. Ska Fab designs and manufactures automatic, semi-automatic and manual equipment for the household and personal care industry that will help load, move, and unload your unique container. Our equipment capabilities include depalletizers, palletizers, conveyance and accumulation systems, and flame treatment systems for glass, plastic and metal containers.
We help develop and deploy household goods' packaging solutions compatible with various materials across the consumer packaged goods industry. Our equipment has handled various containers types including aerosol cans, disinfecting and baby wipe containers, pipe lubricant canisters, oil canisters, detergent containers, and countless other containers for the household and personal care industry.
Watch video of plastic disinfecting wipes on full-height automatic depalletizer
Watch video of oven cleaner aerosol canister on half-height automatic depalletizer
Watch video of pipe lubricant can on half-height automatic depalletizer
Watch video of plastic oil containers on full-height automatic depalletizer
Packaging Excellence, No Matter the Container:
Household Consumer Packaged Goods
The household consumer packaged goods sector is an expansive industry encompassing a wide range of packaging types, including plastic bottles, aluminum cans, and glass containers. These packaging materials are ubiquitous in our daily lives, housing various products we use regularly. 
Ska Fab provides innovative solutions to help operations within this sector meet their production demands efficiently and effectively. Our expertise in this field goes beyond mere machinery – we understand the unique needs and challenges of each type of packaging material and tailor our solutions to address them. 
Whether it's high-speed bottling lines or precision canning equipment, our cutting-edge technology ensures that household product manufacturers can maintain the pace of consumer demand.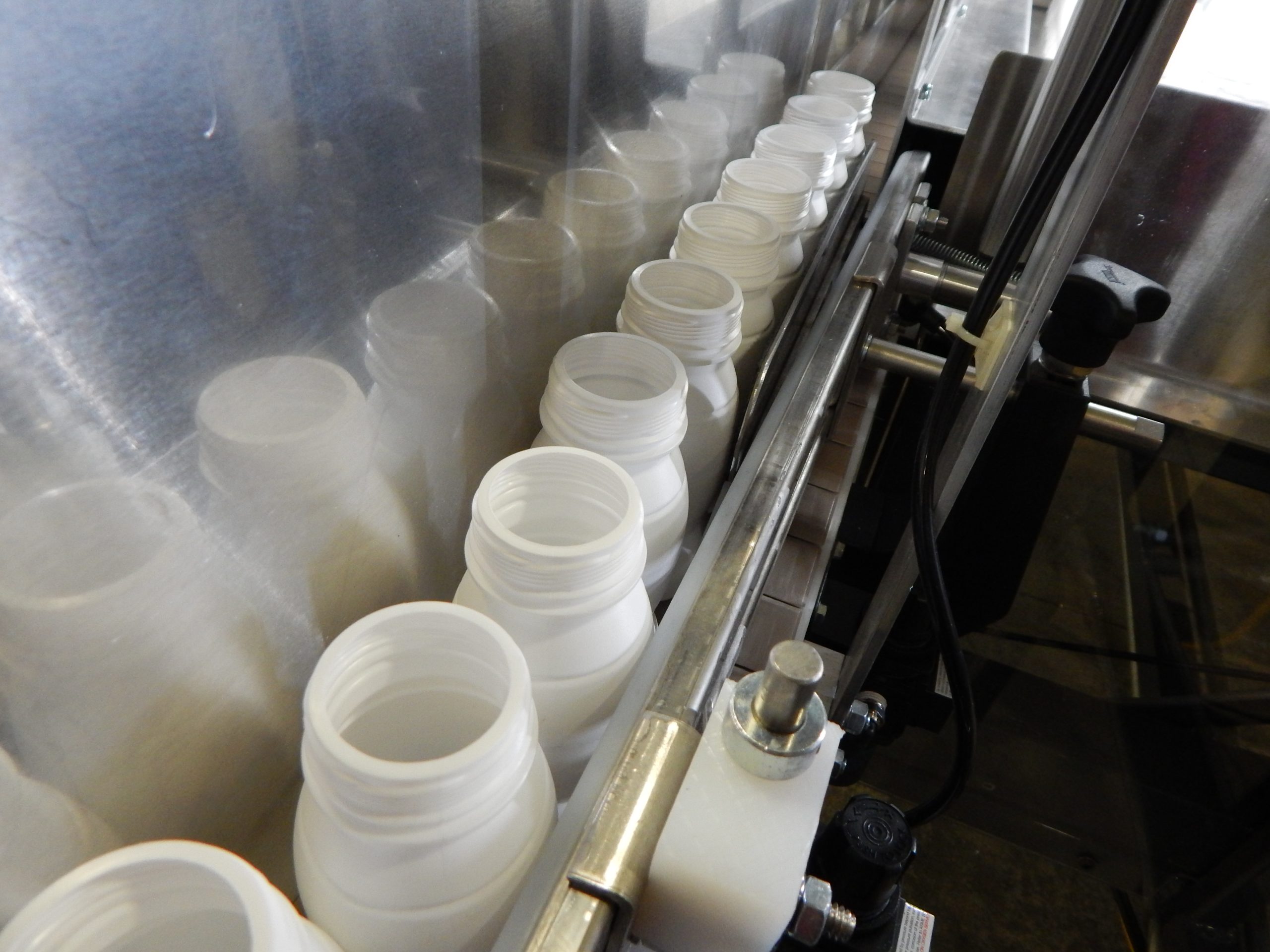 Elevating Your Personal Care Products, One Label at a Time:
Personal care products, such as oils, lotions, and cosmetics, are an integral part of our daily grooming and self-care routines. In this highly competitive industry, Ska Fab offers a suite of essential solutions that enable personal care facilities to streamline their processes and improve product quality. 
Our depalletizers are key components in these facilities, enhancing the speed and accuracy of labeling, packaging, and material handling. With our technology, personal care manufacturers can maintain consistency in labeling and packaging, meeting both consumer expectations and regulatory requirements.
Packing Nutrients, Preserving Wellness :
Nutraceuticals comprise a range of products, including vitamins, minerals, and dietary supplements, which play a crucial role in promoting health and wellness. These products often come in various forms, such as jugs, jars, and bottles. 
Ska Fab specializes in machinery, like container rinsers, accumulators, and baggers, that are essential for the efficient packaging of nutraceuticals. Our solutions ensure that these products are handled and packaged with the utmost care, maintaining their integrity and safety. 
In a market where precision and reliability are paramount, our technology helps nutraceutical manufacturers meet the stringent quality standards and the rising demand for these health-enhancing products.
Blow Molding Solutions that Shape Your Success:
Blow molding is a pivotal process in the packaging industry, producing a wide range of containers and packaging solutions that many industries rely on, including household product manufacturers. Ska Fab takes pride in offering comprehensive solutions to help blow molding operations create end-to-end solutions for custom packaging development. 
We understand the intricacies of blow molding, and our machinery is designed to optimize efficiency and precision in this critical process. From mold design to finished product, our technology ensures that the packaging created is of the highest quality and meets the unique specifications of each industry. 
With Ska Fab, businesses can craft custom packaging solutions that not only meet their needs but also exceed the expectations of their customers.
Our equipment covers your workflows from mid-stream to shipment for a turnkey system, with options that include:
Why Trust Ska Fab for Household, Cleaning and Personal Care Products Packaging?
We have experience across industries identifying and adapting our equipment to meet unique business needs. Our expert engineers review your existing equipment, facility layout and procedures to adapt our solutions for a seamless custom system integration into your production lines. The Ska Fab team is always available for service and support after installation. We can also provide help remotely or on-site to maximize your uptime.
Partner With Us for Household Product Packaging Equipment
Ska Fab offers a comprehensive selection of household products, cleaners and paint packaging equipment to help you optimize your process efficiencies. Take the next step by learning more about how we can help — contact us today.