Ska Fab's Equipment Solutions for Consumer Packaged Goods in Glass, Plastic, Steel & Aluminum Containers
Companies around the world look to Ska Fab to unload their bulk layered pallets.
Ska Fab depalletizers are an economical and efficient means to unload your empty metal, glass, or plastic containers from bulk layered pallets.
Whether you are a copacker that needs reliable equipment to handle a wide range of products, or a company that packages its own product in-house, Ska Fabricating has the proven expertise to help get your products into the hands of your customers.
We have worked with facilities that are both large and small in scale across the globe.  From beverage, food, spices, oils, aerosols, pet food, paint, cleaning solutions, and beyond, we are well versed in all shapes and sizes of bottles made of glass, plastic, steel, aluminum and more.
From our Full Height Automatic Depalletizers (FHA) 3000 and 5000 with up to 20 programmable container dimension specification settings for quick changeovers between container types of glass, plastic or metal, to our Magic Bus depalletizer that brings your aluminum containers from pallet to filler and ready for your customers
Magic Bus auto depalletizer for aluminum cans on lines up to 1,000 CPM.
FHA 3000 & 5000 auto depalletizer for plastic, glass or metal containers.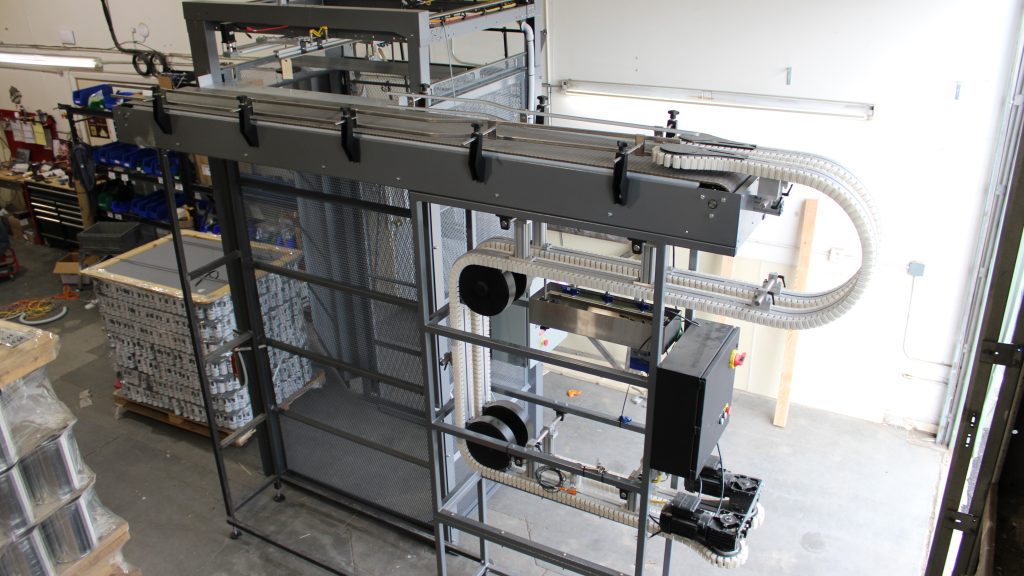 Can-I-Bus auto depalletizer for aluminum cans on lines up to 400 CPM.
HHA 5000 auto depalletizer for half-height pallets of plastic, glass or metal containers.
Working with a team that has seen a truly diverse range of containers ensures that your project is in good hands.  Our engineers know what to expect and this expertise informs their process so that the right questions about your product are being asked.  Our goal is to strive to provide equipment that stands the test of time and that can help you to decrease labor and increase production.
Our depalletizers are robustly constructed, utilize quality components, and are designed with easy operation, reliable performance, and a compact footprint in mind. We offer manual and automatic depalletizers for unloading full or half-height pallets.
View our complete line of depalletizers HERE